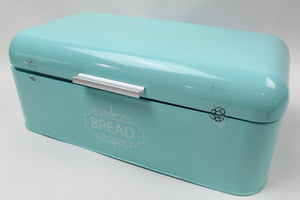 Vintage Bread Box For Kitchen Stainless Steel Metal in Retro Turquoise
Product Condition Details
: USED
USED - MAIN ITEM HAS A DENT AND CHIPPED PAINT ON THE BACK. DAMAGED PACKAGING.
PRESERVE YOUR FRESH BREAD LONGER!!! ADD A GREAT ACCESSORY TO YOUR KITCHEN COUNTER!!! This vintage bread box will bring back memories of Grandmas kitchen. She used one of these to preserve her fresh-baked loaves and it will do the same for your homemade or store-bought bread! Form plus function! The smooth, nostalgic but contemporary design and glossy turquoise finish will blend nicely with your decor and brighten the space. Its built to last and its a great conversation piece, but also a kitchen utensil with a purpose. If you were lucky enough to grow up with one of these breadboxes in your kitchen, then you know that it kept your bread soft and fresh longer. Thats because a bread box seals in just the right amount of moisture, while allowing enough air circulation to prevent condensation that makes bread soggy and encourages mold growth. Bread Bin Features: Roomy, 16 x 9 x 6.5 interior, curved sides and a simple chrome handle Manufactured of cold-rolled steel (0.5mm) Durable powder coating is chip-resistant, attractive and easy to clean. Small, concealed holes allow air circulation Keeps bread and pastries fresh and flavorful longer.
KEEPS YOUR BREAD FRESH - Sleek, turquoise bread box for the kitchen by All-Green Products allows air circulation to keep bread and pastry fresh longer. BIG AND STURDY - Extra Large Capacity kit 16.5 inches long x 9 inches deep x 6.5 inches high cold-rolled 0.5mm steel bread bin container holder for 2 loaf. Perfect for your Farmhouse country Kitchen! LOOKS GREAT AND CLEANS UP EASILY - Durable Vintage Rustic Style, smooth powder coat turquoise finish for easy cleanup, Looks great on your countertop next to your retro appliances hand blender, Vegetable Slicer, Bread Basket organizer, Bread display, Bread Knife etc.
SELLER'S COMMENTS:
WHAT YOU SEE IN THE PICTURE IS WHAT IS INCLUDED IN THIS AUCTION. NOTHING ADDITIONAL IS INCLUDED.
Our Opened Box items are in great condition. Any imperfections will be disclosed in the Item Condition description and specific photo documentation.
Return Policy: BuyLow Warehouse offers a 30-Day Return Policy with NO restocking fee. Our products are 100% GUARANTEED and we will handle all aspects of any return. All condition descriptions are made for the benefit of the buyer to offer clarity of the condition of the item ONLY. We do not represent ourselves as authorized resellers of items if they are listed as new or used. In addition, no representations of the manufacturer's warranty is made. Purchase with the assumption that no manufacturer's warranty is valid with the item. All returns will be handled solely by BuyLow Warehouse.
Free 30 Day Returns and exchanges are accepted by BuyLow Warehouse for all items. A prepaid shipping label will be provided.
Returned items are inspected upon return. Items must be in exactly the same condition as when sent. Please DO NOT make any marking on the manufacturer box, or use it as a shipping box. Any damage or missing parts, will result in some monies being withheld. All of our electronic items are secretly marked or have photo documentation of the serial numbers kept on file prior to shipping.
Refunds are applied within 5 business days of receipt of the returned item. Seller is not responsible for insuring packages, even if, seller is paying return shipping charges.