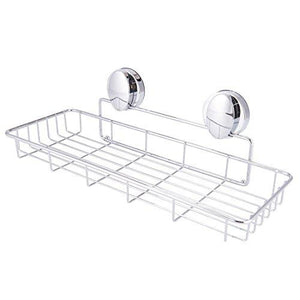 Brand: Smartloc
Color: Chrome
Features:
NO DRILLING, NO SCREWING, NO HAMMERING - Without any harm to your wall during the installation of your new hanging shower caddy. Simply adhere the suction cups to the wall of your shower or bathtub.
EASY INSTALLATION - No screws, no nails, no glue, no tools. The shower caddy basket can be re-positioned many times over, removed without residues. Prevent any damage to your permanent structure and also allows flexibility to relocate.
VERSATILE - Durable, rust-proof basket keeps cleansers, body washes, shampoos, conditioners, loofahs, brushes, etc. Made up of high-strength materials which ensure shower caddy basket organizer holder lasts for a lot of years.
ELEGANT & MODERN - Shower caddy basket is durable and heat-resistant. Shower caddy basket suction knob is made of chrome plated plastic, lightweight for better suction performance.
APPLICATION - This item is designed for the shower room and kitchen. Your soap, razors, sponges and loofahs are available. An essential accessory at home.
Publisher: Smartloc
Details: - Super Strong Vacuum Power: The suction of shower caddy has strong load bearing ability. It can hold the heavy shampoo firmly. - Removeable & Re-Useable Fuctions: The suction cup can be removed everywhere without leaving any residues. Easily cleaning, save your time. Also it is ready for immediate reuse in another location.
- Save Space: The shower caddy provides storage for bathroom accessories. And modern fashion design makes your bathroom to be special.

Material: Chrome Finish
Size: 15.7 x 6.1 x 3 inches
Colour: Sliver

Installation Tips:
1. Clean the surface and rubber before installation. If the item fell off. Before the second installation, you need to wash and dry off the rubber to make sure no dust on the surface of the rubber.
2. Unlock the knob to make sure the rubber base is flat.
3. Press the suction cup on the surface and maintain the pressure.
4. Press while twisting the knob clockwise until could not turn anymore. Push the knob upwaid to exhaust the air. Test by hand before use.

Warnings:
1. Never use on painted, textured or matte surfaces.
2. Do not use on porous or uneven surfaces.
3. Do not use to store glass or breakable items.
4. Do not position over grout lines or edges.
5. Do not twist the knob after it has fully tightened.
6. Caution:
Fit for any smooth surface like glass, marble, porcelain, nano tiles.
Not adhere to unfinished marble, porous or rough surfaces, across grout lines.
Please wait for 24 hours after finishing installation, then you can put things on the caddy.

Guarantee:
We are dedicated to providing quality products and services to satisfy all customers. If you truly feel you're not happy with your purchase, we promise to replace or refund every last penny within 30 days of receipt of the products. Just contact us without hesitation.

EAN: 6903942418282