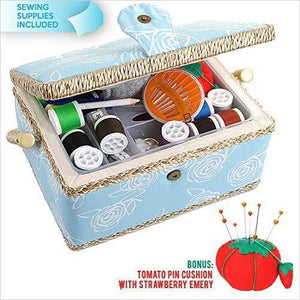 Details:
If you want the best quality and authentic SEWKIT (TM) just like what our customer say on the review, make sure you buy ONLY from TODAY'S DEAL STORE. Other are selling our copied products

SEWKIT (TM)

This sewing case is perfect for everyday sewing and mending and measures at 12 x 9.1 x 6.3 inches.

Why you need this sewing storage?
- Complete sewing kit included
- Detachable tray to store small or medium sewing tools
- Ergonomic handle with magnetic snap
- Perfect for basic sewing and mending
- Great for birthday, Christmas, retirement presents

Practical and Portable - Guaranteed!

This sewing wooden basket with lid and body covered with stylish flower pattern on the outer lining. The detachable tray able to organize all the small sewing tools. You can use it to make craft, stitch, or sew a button in no time!

As a surprise gift you can give this sewing kits for beginners to anyone.

Here's what you'll get from the set!
- 20 Bobbin sewing threads
- 1 Fabric scissors
- 1 Measuring tape
- 1 Needle threader
- 1 Pin cushion
- 1 Seam ripper
- 1 Thimble for sewing
- 1 White marking pencil
- A pack of pins
- Assorted needles
- Buttons

Hurry get our sewing tote! Our stock is limited!
Click ADD TO CART button NOW!

Specification:
Color: Blue
Material: Polyester and solid wood (basket), Polypropylene (tray)
Size: 12 x 9.1 x 6.3 inches
Use for: Sewing, quilting, embroidery, mending
Set of: 1 piece, 1 tomato pin cushion for sewing

(c) SewKit (TM) - All Rights Reserved
Features:
COMPLETE SEWING ORGANIZER - You'll get sewing box with accessories set of 20 bobbin sewing thread, fabric scissors, buttons, measuring tape, needle threader, sewing pin cushion, needles, seam ripper, pins, thimble, and white marking pencil! BONUS: tomato pin cushion with strawberry emery
LONG LASTING PREMIUM BASKET - This sewing box kit measures at 12" x 9.1" x 6.3", made of durable wood material and featured with ergonomic handle, removable tray and a magnetic snap for a safe lock. The outer part of this sewing is lined with soft polyester fabric which makes it smooth to touch.
STYLISH DESIGN - The blue flower pattern on the outside is super attractive & eye-catching so cute for birthday presents. The spacious sewing storage compartment underneath the removable plastic tray on the inside can store all of your sewing supplies for everyday crafting, quilting, or mending.
GREAT UNFORGETTABLE GIFT - Our sewing boxes large can be an unforgettable gift for your loved one. Perfect sewing kits for girls, beginner sewer, housewives, mother or grandma. Delightful gift idea for birthday, Christmas, Mother's day, Valentines, anniversary, baby shower, or retirement presents.
HAVE A GREAT QUALITY SEWING TIME - Strengthen your bond with your beloved daughter, wife, mother or grandmother. Surprise them with this sewing set as a gift. Basic beginner sewing or professional definitely need this box. ORDER NOW for your best sewing experience!
Brand: Sewkit
Color: Blue Flower
Publisher: Sewkit
EAN: 6892478402530
Package Dimensions: 14.0 x 10.0 x 6.5 inches