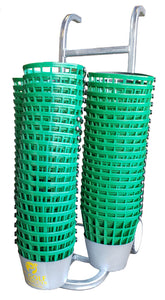 No range is complete without our Range Pail Cart to keep all your basket organized! 
This is the most versatile accessory on the market for taking pails on the move.  You no longer need to bend down and pick up stacks of baskets - 2 heavy-duty wheels make the job mobile!  Also, provides a great way to stack range baskets to keep your range clean and organized and looks great next to any ball dispenser. 
Holds up to 90 baskets of any size. Made in the USA from premium electroplated Steel, so you'll be organized for years to come.