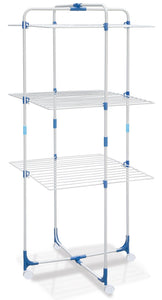 Brand: Metaltex USA
Color: White
Features:
Epotherm finish
Heavy gauge welded steel construction
Easy assembly
4-tier dryer offers more than 9-feet of drying capacity
Made in Italy
Publisher: Metaltex USA Inc.
Details: Drying just got easier and more efficient with the Castello Dryer from Metaltex USA Inc. The Castello Dryer comes in a 4-tier model and can be broken down for storage. By allowing the rack to be separated in the middle with color coded, positive locking joiners, it makes the storage room needed half the size of the dryers full height. With shelves that lock into place, you are assured of a stable drying surface. Epotherm is a quality surface treatment alternative to traditional coatings. This epoxy based treatment offers at least 30% more coating protection. The coated metal wires are visually thicker. Epotherm ensures durability and reliability when exposed to the elements whether indoors or outdoors. Epotherm will not chip, crack or discolor, its washable and has a 3 year guarantee for the product. The 4-tier dryer offers more than 9 ft of drying capacity. White. Dimensions: 28-inch D by 28-inch W by 59-inch H. Made in Italy.
UPC: 28898058064
EAN: 28898058064
Package Dimensions: 31.2 x 29.9 x 1.3 inches