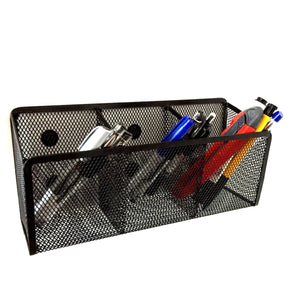 MAGNETIC SUPPORT FEATURE; with its strong magnetic backing, it ensures that the basket holder will stay put where you stick them.

METAL WIRE CONSTRUCTION; this basket organizer is designed for lasting use and is made of high quality of metal to ensure its durability.

LARGE STORAGE BASKET; with its spacious compartment, you can keep all your supplies like marker, pencil, pen, ruler, eraser etc. into one place all together.

HANDY AND ACCESSIBLE; this magnetic pencil holder is very convenient to use. You can just attach them anywhere you want, in your whiteboard as a marker holder; in your cubicle desk to keep your office supplies; in your locker to store your things; and even in your refrigerator fridge to keep your to-do list, bills etc.

SATISFACTION GUARANTEE; Our Magnetic Pencil Holder is supported by a 30 day money back guarantee from our manufacturer.