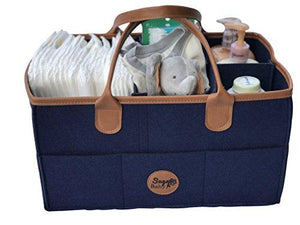 Brand: Sugar Baby
Color: Blue
Features:
STURDY AND LIGHTWEIGHT: Our Baby Diaper Caddy Organizer has Faux leather trim around the top edge for reinforcement and to prevent the gift caddy from deforming when empty. The baby diaper gift basket is made from 100% 3mm Felt which gives it that natural strength to hold all your baby's essentials. Perfectly sized at 14" L x 10" W x 8" H with 5 compartment and 8 outside pockets. The Sugar baby caddy is a baby Registry must have.
VERSATILE WITH REMOVABLE CADDY INSERTS - Customize your caddy storage organizer to your specific needs. The diaper storage basket inserts attach with Velcro so they are easy to assemble and remove. Use the inserts for holding diapers and wipes, or remove them for storing larger items like receiving blankets, clothes onesies, extra bottles, Toys etc
MULTIFUNCTIONAL USES : This diaper changing basket can be successfully turned into a toy storage bin for your boy or girl, just take out the Velcro inserts or you can use it without a baby related purpose in mind, as a car organizer or art supplies organizer. The Faux leather trim and handle gives the diaper gift Basket a stylish and elegant look, that any new mom would appreciate.
KEEP EVERYTHING ORGANIZED: Store all your baby's essentials in one place, where they are easy to access which is critical for a busy mom. The diaper carry change organizer large storage capacity allows you to take diapers, bibs, wipes, medicine, burp cloths, baby powder, Diaper cream, nail clippers, thermometer and breast pump everywhere you go.
SATISFACTION GUARANTEE - At Sugar in the Root, we are parents who want to make caring for kids a bit easier by providing high quality products. We are confident you will love this portable baby diaper organizer, but if you are not satisfied with the Diaper storage basket return it and we'll refund your money within 30 days
Publisher: Sugar in the Root
Details: With 5 customizable inner space,8 exterior pockets, this Baby Diaper Nursery Organizer by Sugar in the Root, provides versatile partitioning to hold all your baby diapers and essentials of all sizes, bibs, burp cloths, clothes and toys. Made from 3mm layers of soft, light felt with reliable seams and stitching, it maintains its shape throughout its use. We also use Faux Leather trim and handle to provide a stylish look that any new MOM would appreciate. This Baby Diaper organizer is the perfect size in height, width and depth to hold all your baby's essentials. This baby diaper nursery organizer would make the perfect gift for a new mom or to add to your new baby registry. This Baby Diaper gift basket can be used as a portable car organizer for toys and wipes while taking our kid for one of his/her many checkups. •RESPOND IN A TIMELY MANNER TO YOUR BABY'S NEEDS: Know that your baby care items will not be scattered everywhere and are stored in one place for easy access. You will find them organized in your baby diaper caddy organizer and your child will be happy when you respond to their urgent need in a timely manner. You will have peace of mind knowing that your precious one essentials are within easy reach, with no fuss. Add this baby Diaper Storage basket organizer to your cart now.
UPC: 604565012975
EAN: 0604565012975