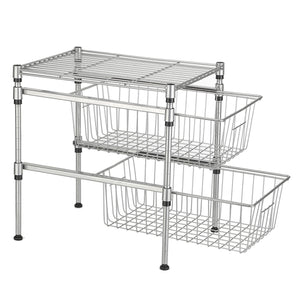 ---
Product Description

Product Usage :

The sliding basket is small volume and can be used on your kitchen cabinet or under a sink.

ideal for spice rack, fruit racks, sliding baskets for cupboard, under sink storage basket,

cosmetics and toiletries rack, table organization rack. expand your kitchen storage space,make

your kitchen look cleaner, more organized.


 
Product Specifications :

1. Product material:  made of steel, elegant chrome finish, rustproof, sturdy, strong load

bearing, each basket can hold up to 20 lb, while the top-shelf holds up to 40 lb.

2. Each shelf height is adjustable, three shelves can change position. install it as your favourite

style.

3. Product Dimensions: 15.75" L * 11.42" W * 16.14" L.

4. Adjust the foot pad can make it always stable while the table is not flat.
 

Holes can be put into a pin,  avoid the

basket fully sliding down. safe storage.

The basket slides in the slot.

according to product manual, in 10 minutes

you can make out a 2 tier sliding basket.


 

Foot pad height can be adjusted, when the

basket is not unstable, you can adjust the

height of the foot pad.